Lincoln's Best Local Barbeque Joint!
Pulled Pork BBQ BBQ Ribs Sandwiches Meat Wings
We are always "Smoking at the Pit"
All of our meats are slow smoked over hickory to juicy perfection.
Student Discounts and Gift Certificates Available!
Sign-up and you're entered to win a FREE lunch on us! Or come on down and drop your card in our fishbowl and we'll draw one lucky customer a week to win a FREE lunch on us!
Read More →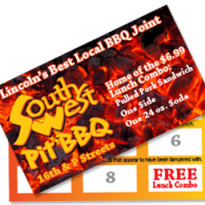 Punch the Pig for a FREE Lunch & Cornbread
Come on down and get your FREE Lunch Card
Order a Combo Meal and get a punch!
Four punches= Free Cornbread
Nine punches= Free Combo Meal!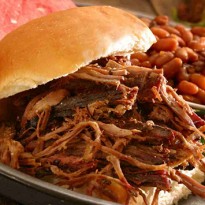 Home of the $6.99 Lunch Combo
One Pulled Pork Sandwich
One Regular Side
One16 oz. Soda